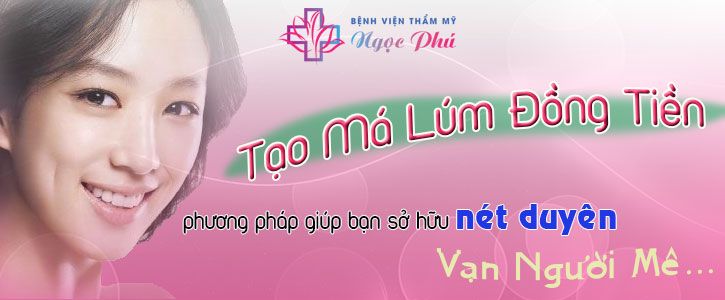 why
should you apply dimple creation surgery?
According to experts, dimple is a small defect on the cheek due to the facial skin stuck to the organization below. According to this principle, the aesthetic experts at Ngoc Phu Aesthetic Hospital has been learning and successfully applied dimple creation technique by Korean technology. This technique is done by creating cohesion between skin and muscle by using a dedicated only small stitches to help pull the skin on the inside, forming dimples when talking or smiling.
1Not require surgery
Dimple Creation by Korean technology does not require surgery and is performed inside the mouth so not reveal any traces. This technique is gently done.
2Create natural beautiful dimples
This new technique simulates the formation mechanism of natural dimple so the depth of your dimple will be harmonious with the face.
3Absolutely safe
Dimple creation is just a simple minor surgery, performed by a team of skillful surgeons under the standard procedure so we ensure absolute safety for our clients.
4Long-term effect
Dimples are formed by creating cohesion between the skin and muscles in the cheeks, this is a permanent adhesion so dimples will be able to maintain long-term stability.
5Minimal swelling and no pain
Before creating dimples, the surgeon will give you an a local anesthetic so the surgery will be performed inside the mouth with minimal scar and without pain or discomfort.
who? should apply dimple creation
1Clients who want to own dimple in 1 side or 2 sides
2Apply for clients above 18 years old
ngoc phu aesthetic hospital
prestigious address for dimple creation
Ngoc Phu Aesthetic Hospital is proud to be a top prestigious plastic surgery hospital today, with a team of good surgeons with over 20 years of experience. With deft and precise technique, clients can feel peace in mind, confident when applying dimple creation at our hospital. Especially, with superior strength, Ngoc Phu Aesthetic Hospital is gradually a choice for most clients who desire to own dimples, by:
1Apply the most advanced technology in Korea
Ngoc Phu Aesthetic Hospital always stay ahead in transferring and applying the latest aesthetic enhancement technology from Korea, including technique of dimple creation to give clients the best result.
2This technique is quickly and simply done
Technique of dimple creation at Ngoc Phu Aesthetic Hospital is a quick and simple solution but it brings long-term effect.
3Good and experienced surgeons
With a team of experienced surgeons, when clients come to Ngoc Phu Aesthetic Hospital will experience the beauty treatments from consultation, examination, performing to enthusiastic and thoughtful post-operative care.
Now, you can make the dream to own charming smile with dimples come true, help you perfect the beauty for your face, bringing confidence and more radiant beauty in life as well as in work.
procedure
Technique of dimple creation at Ngoc Phu Aesthetic Hospital is performed by a team of experienced surgeons, operations will be gently, exactly done to absolutely satisfy our clients.
1Examine and determine location of dimple creation
2Local anesthesia with a sedation
3Perform surgery
Surgerys will make a small incision through the inner of the cheek and attach to the facial muscle below the skin surface, form the dimple at the determined location. Right after surgery, you can go home and do normal activities.
images
- Natural charming dimples.
- Only when facial muscles move as smile or talk, the dimples appear.
- Size and depth are harmonious with the face.
- Maintain beautiful dimples permanently.
Time and cost
*Dollar exchange rate in the above price list : $ 1 = 20000 VND
(Price of Surgeries and Treatments will change according to the current dollar price)